1912 - Outgrowing Whitaker's Home
Within a few years of the company's formation, business began to boom and it soon outgrew Whitaker's small home office. In 1912 the company moved to the 7th floor of the Flint B. Smith Building (later called the Sill Building) in downtown Flint.
1919 - Shortening Our Name
Just over a decade after it began selling lightning rods and insurance, the company decided to shorten its name and changed it from "Farmer's Mutual Lightning Protected Insurance Company of Michigan, Ltd.," to "State Mutual Rodded Insurance Company, Ltd."
1924 - Another Name Change
In 1924, the company dropped the Ltd in "State Mutual Rodded Insurance Company, Ltd" and added the word "fire." Thus, the new name became "State Mutual Rodded Fire Insurance Company of Michigan." In short, the company was popularly referred to as "The Rodded Company" or "The Flint Company."
1929 - Our "Home"
In 1929, the company purchased a home at the corner of Church and Third Streets in Flint. The home was remodeled and transformed it into an office building.
1934 - Name Change #3
In 1934, another name change took place, and the company became "State Mutual Fire Insurance Company of Michigan." This name remained for the next eighteen years.
1952 - Writing General Policies
In January of 1952, the company reached a major milestone and expanded beyond merely selling farm fire insurance. The board of directors decided the company should sell general insurance as well. The General Charter was soon granted.
To reflect this change, the word "Fire" was dropped from the title. The new name, "State Mutual Insurance Company of Michigan," emphasized the fact that the company had achieved the privilege to write "General" policies.
1955 - Holley K. Fisk Becomes President
In 1912, a young man named Holley Fisk joined the company. Prior to his connection with the company, he spent his first twenty years working on his family's farm in Colon, Michigan. He then worked one year at Flint's Buick Motors Plant. After realizing the farm and the auto industries weren't for him, he met George Whitaker and began working in the company's office as an office clerk.
He excelled in his work, and in 1925 he became office manager. His growth continued, and in 1930 he was elected to the board of directors. In 1931, Holley became secretary and at the same time was general manager.
He was elevated to the office of presidency in June of 1955 and retired in 1960. Mr. Fisk was one of the most widely known insurance executives in Michigan.
1959 - A Building of Our Own
The home State Mutual Fire Insurance Company of Michigan purchased on Church and Third Streets soon became too close of quarters for the growing company. Therefore, in 1959 the company decided to construct its own building, and the new address became 2776 Flushing Road, Flint.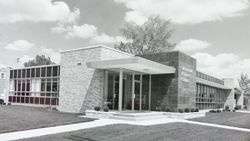 1962 - Alex Little Becomes President and General Manager
Alex Little began his career as an agent in 1936. After three years, he became a full-time company inspector. Except for his tenure of three years in the army, Mr. Little held that position until he moved to the home office as chief underwriter in 1952.
Mr. Little was elected company secretary in 1955 and at the same time, was the home office manager. In 1960, he was elected to the board of directors and named general manager. In 1961, he became vice president and general manager, then president and general manager in 1962. He held the title of general manager of the company for twenty-two years.
Alex Little was highly respected for his achievement in insurance organization and management. He was very active in many insurance organizations, both on state and national levels.
1967- Becoming a "Pioneer"
In 1967, the business began a new era. State Mutual Insurance Company of Michigan merged with Pioneer Mutual and the present name, "Pioneer State Mutual Insurance Company," evolved.
1968 - Clarence W. Swanebeck Becomes Director
Back in 1917, the company organized a Detroit branch. During that time Clarence W. Swanebeck joined the company. He served for over forty years as president, vice president, secretary-treasurer, and general manager.
Mr. Swanebeck was very successful. During his time with the company, he was elected to many boards of national and state insurance and agricultural organizations.
In 1967, the company merged with another, and Mr. Swanebeck became a consultant and director of Pioneer State Mutual. Upon retiring in 1968, he continued as a director of the company until 1970.
1975 - Building for the Future - 1510 Elms Road
To provide for continued growth, Pioneer State Mutual Insurance Company again built a new office building at its present location, 1510 N. Elms Road in Flint, in 1975.
1982 - Samuel W. Miller Appointed as President
Over a period of 16 years, Samuel Miller was an officer of five companies, serving the automotive-design, model, plastic, tool and die trades.
He joined Pioneer State Mutual in January of 1968 as controller and coordinated the merger of Pioneer Mutual, located in Lansing, Michigan, until that office closed. Mr. Miller moved to Flint in 1969 and in 1972 was elected treasurer. In 1978, he was appointed to the board of directors and later that same year was elected director, vice president treasurer. He was elected as the company's president in 1982.
Mr. Miller's sudden death in 1990 came near the end of the expansion project, which he dreamed of, initiated, and was involved with first-hand.
1990 - A Major Remodel and Dale W. Little Named President & CEO
In 1990, a substantial addition was added to the present building location, doubling the physical size of the home office.
During this time, Dale W. Little was named president of Pioneer State Mutual by the board of directors. Mr. Little had joined the company in 1971 as an inspector and was appointed field representative in 1973. He was elected secretary in 1979, vice president and underwriting manager in 1982, and executive vice president in April 1987.
Mr. Little was named CEO in August 1990 and was elected chairman of the board of directors of Pioneer State Mutual in April 1999.
To accommodate growth of the company and provide for the future, Mr. Little aided in overseeing the addition of 16,000 square feet of new office space to the building in 2004.
Mr. Little's untimely death in 2005 came near the end of one of the best years in the history of the company.
2005 - Kurt P. Foley Named President and CEO
Kurt P. Foley was named president and CEO of Pioneer State Mutual by the board of directors on December 14, 2005.
Mr. Foley joined Pioneer in 1992 as a marketing representative. In 1998, he became agency director, and in April 2000, he was appointed vice president, director of marketing. He was appointed senior vice president in April 2005.
Under Mr. Foley's leadership, the company's premium doubled and the reserve for policyholder protection increased over 150%. The capital strength of the company is what allows it to continue to remain viable, and Mr. Foley's leadership in increasing that strength will continue to pay dividends for years to come. His 27 years of service, dedication, and execution of the company objectives have benefited the company greatly. Upon his retirement in December 2019, Mr. Foley was elected chairman of the board of directors and continues to serve the company in this role.
2020 - Lisa Lott Named President and CEO
Lisa Lott was named President and CEO of Pioneer State Mutual by the board of directors on January 1, 2020.
Mrs. Lott joined Pioneer in 1999 after spending a few years in the banking industry and was promoted as the company controller in 2006. She was named vice president and treasurer in 2011, chief financial officer in 2013 and elected to the board of directors in 2014.
She plans to use her 20 years of experience with Pioneer to build on the strengths of the company and continue to push towards future growth.